---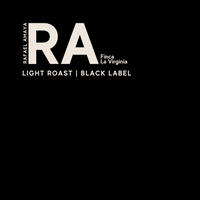 Grown by Rafael Amaya at Finca La Virginia in the Timaná region of Huila in the southern part of Colombia. Rafael is considered by some roasters as a "Wizard of Coffee" as he is known for his wild fermentation and is achieving great tastes and wild profiles.
Rafael has spent years experimenting with many fermentation methods and tasting them at different stages and found that the sweet spot in flavor came from a taste similar to an overripe orange which after post fermentation makes it taste like passionfruit. (Interesting ain't it?)
He also takes extraordinary measures to extend the anaerobic fermentation to over 60 - 120 hours. For example, he moves his coffee via donkeys to cooler parts of the valley to drag out the fermentation process.
Upon completion of the fermentation process, the parchment is washed and spread out to dry until it reaches the desired moisture content. 
The resulting notes are rum and cinnamon aromas featuring strongly in the dry aroma, beautiful juicy notes of plum, hints of mandarin, sweet chocolate, cacao nibs in the coffee.
| | |
| --- | --- |
| Origin Name: | Rafael Amaya Finca La Virginia |
| Farm: | Finca La Virginia |
| Varietal: | Caturra |
| Processing: | Carbonic Maceration  |
| Altitude: | 1,100m to 1,400m  |
| Town / City: | N/A |
| Region: | Huila |

Brew methods: V60, Kalita Wave, Moccamaster, Lili Dripper, Torch Mountain Dripper, Hand Brews.
This item is for weekly pre-order consolidation. All orders are consolidated from every Tuesday through Sunday. You should receive it before the end of the next weekend.

Please select (ground coffee) when choosing your intended coffee bean purchase if you would like us to grind it for you. Please also leave us a comment in your check out cart to let us know the brew method and grind size you need it in.