---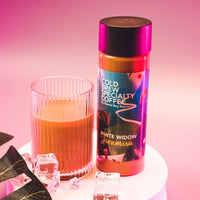 Sale
White Widow is our hero product amongst our ready to drink range of coffees. This coffee is a slow steeped cold brew mixed with milk that you can enjoy at home, at work on or the go. Our product is best consumed within 7 days but will last longer if stored at under 4C in your refrigerator.
As our cold brew products are not ambient stable, we recommend either a self-collection with a cooler bag, or a express courier to keep the product chilled.
You can self-collect or select delivery. If you select delivery, we recommend purchasing at least 10 units of cans to make the delivery cost worthwhile.
Delivery cost ranges from $15 - $25 for product under 15kg and $25 - $35 for product under 40kg depending on where you reside in Singapore. We will refund the difference in delivery cost. Eg if you live in Sentosa and the cost of delivery from our shop is $15. We will refund you $10 within 3 working days. 
Gentle note: Our RTD drinks are freshly made, have a relatively short shelf life and are generally not considered room temperature shelf stable. We will not ship to you unless its an express courier and we won't allow any locker pick ups as these drinks should be refrigerated at all times.